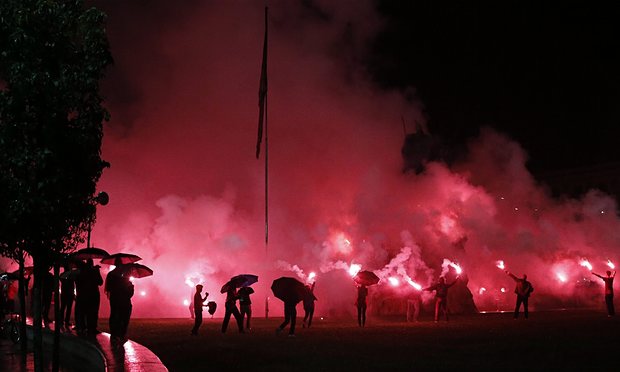 Albania welcomes home heroes after qualification for Euro 2016
n Tirana the streets were gridlocked on Sunday night while people flocked around the monument to the national hero, Skenderbeu, flares and fireworks erupting long into the night. In Pristina's Filikaqa ("The Whistle") bar the Albanian ambassador to Kosovo, Qemal Minxhozi, bought drinks for every punter in sight while pandemonium reigned outside. If it was unusual for two capital cities, 157 miles apart by road, to be united in simultaneous throes of ecstasy, then the achievement they were celebrating had no precedent: Albania had qualified automatically for the European Championship finals with a 3-0 win in Armenia and a nation that has traditionally contributed to others' footballing success could now bask in glory of its own.
"When I said Albania could do it, they laughed at me," said the national team coach, Gianni De Biasi, who took the job in 2011 after a peripatetic career in his native Italy. It did seem something of a stretch. Albania had never come remotely close to a major tournament before and had finished fifth in a six-team group in World Cup 2014 qualifying. Close inspection had revealed some hints of improvement back then – Norway were beaten away, Slovenia and Cyprus at home – but optimism for their prospects in a Euro 2016 quintet that included Portugal, Denmark and Serbia was muted.
Yet a magnificent volley by the striker Bekim Balaj helped De Biasi's team smash-and-grab its way to a remarkable win in Lisbon on the first matchday and Albania's course was set. Much as Balaj's finish that night was sweet, this side is solid rather than spectacular: Albania have tended to line up in a cautious, compact 4-5-1, their defence marshalled by the Nantes and former Sunderland player Lorik Cana, who has demi-god status of his own. It is an approach that has generally worked. Three of the five goals they conceded arrived in injury time of matches, although action was not in plentiful supply at the other end either until they cut loose in Yerevan.
The latter point is masked by the 10 goals next to their name in the Group I table. Three of those were given by default after Albania were awarded, in July, the victory from last October's abandoned match in Belgrade.
Ismail Morina, the man who piloted the flag-bearing drone that led to chaos unfolding and was conveniently detained on suspicion of illegal firearm possession before Thursday's rematch, is now a local celebrity and it is fair to note that, had that match run its course and finished goalless, the bare statistics say Albania would be facing a play-off match next month. Perhaps Morina's action was decisive but maybe it can be looked at another way: Albania won only one of their four qualifying matches after the Serbia game – losing the return 2-0 – and local observers were quick to suggest that their elevated position, and the emotion of the circumstances that had helped bring it about, had removed a fraction of the team's intensity.
That certainly seemed the case after the tepid defeat by Serbia in Elbasan, which had been heaving with the expectation of a victory that would have secured qualification against their bitter rivals but instead resembled a post-apocalyptic film after full-time, barely a soul to be seen on its streets amid a feeling that Albania's bubble had been decisively burst. What a difference three days make, then, and on Sunday evening the Elbasan Arena was letting supporters in again – its doors thrown open this time for a party that had only been postponed.
There were also celebrations among Albania's worldwide diaspora. Nearly 300,000 are believed to live in Switzerland and Germany apiece, around 500,000 in Italy and 200,000 in North America, and in the past this has had a mixed impact on the national team. High-profile players with Albanian heritage who have opted to represent other nations include Switzerland's Xherdan Shaqiri and Granit Xhaka – whose brother, Taulant, did choose Albania – and the Germany defender Shkodran Mustafi.
Perhaps success will mean that the trend begins to reverse. These are fascinating, rapidly changing times for football in the region. It seems likely that Kosovo, who were beating Equatorial Guinea 2-0 as Albania prepared for their match in Armenia, will be granted Uefa membership early next year and it is not impossible that they will be added to one of the qualifying groups for the 2018 World Cup. That would give Albania an altogether different challenge: more than half of its current squad, Cana included, would have been eligible for a Kosovo team and, although that has little bearing on the current crop, it may lead to fierce competition for future generations' allegiances.
That is immaterial this week, though, and the Kosovo factor has given Albanian celebrations an extra, profound level of meaning. Cana could not resist a dig at the Serbs, whose war with the ethnically Albanian Kosovo Liberation Army in the 1990s left scars that may never heal. "Despite beating us, they will now watch us in France while drinking beer in front of the TV," said an emotional Cana, who was in tears at full time in Yerevan. Less whimsical were the actions of those who burned a Serbian flag in Tirana on Sunday night and the Albanians in the south Serbian towns of Presovo and Bujanovac who caused outrage in the local media by chanting anti-Serb slogans.
The politics, resentment and depth of feeling will colour some perceptions of what happened in Group I but they should not detract from the scale of Albania's achievement. De Biasi and his team have shown that clever management and a tightly knit group of talented, intensely motivated players can travel far together in an international scene whose more vaunted sides all too often seem atomised. And even that does not need raking over too intently just now: on Monday afternoon, thousands cleared their heads and gathered again to welcome Albania's returning players to Tirana, where they were received by the prime minister Edi Rama. "Dearest Gianni, words cannot express my gratitude to you," Rama told De Biasi, and his words will have been echoed by a people who had not dared to dream this day would come.