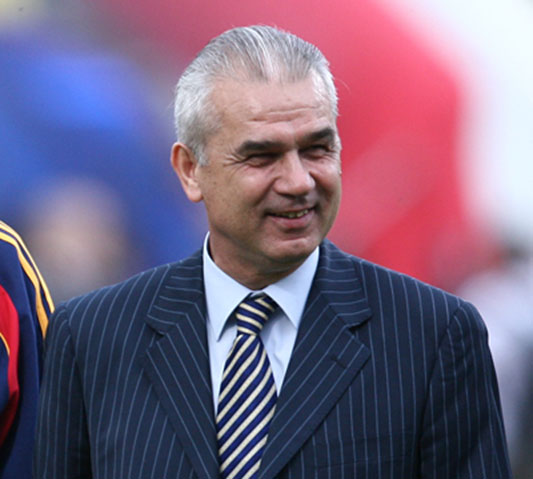 Albania is a strong team. An Exclusive Interview with Romanian Coach Mr.Anghel Iordanescu
Born: may 4th 1950 (Age 66), Bukarest, Rumania
Height: 1,76 m
Position: Forward
Children: Eduard Iordănescu, Andrei Iordanescu, Alexandru Iordanescu, Maria Iordanescu
Anghel Iordănescu is a retired Romanian footballer and current manager of the Romania national football team. In 2007, Iordănescu retired from football, and the following February, after his predecessor resigned, he became a member of the Romanian Senate, sitting on the Social Democratic Party benches. On 26 December 2011, he became an independent senator, affiliated to the National Union for the Progress of Romania.
One of Steaua Bucureşti's greatest players, Iordănescu was a forward or attacking midfielder with a well-developed scoring technique and uncommon dribbling ability. He was also well known for his vision and set-piece ability. In Romania he played only for Steaua Bucureşti, a team he joined as a youth in 1962, aged 12. Six years later he made his first appearance in Steaua Bucureşti's first team, followed by his first appearance for Romania in 1971. During this period of time he scored a massive 155 goals, being the team's best scorer in its whole history.
Iordănescu won two championships (in 1976 and 1978) and four Romanian Cups (in 1970, 1971, 1976, and 1979). In 1981-82 he was Divizia A's top scorer.
In 1982, aged 32, he left Romania to play for OFI Crete in Greece under head coach Les Shannon, but returned to Steaua two years later to become the club's assistant manager. Together with Emerich Jenei, then head coach, he won the championship in 1985 and helped lead the team to its European Cup triumph in 1986, playing as a substitute in the final against FC Barcelona.
Emerich Jenei was appointed as Romania's manager in the summer of 1986, leaving Iordănescu as Steaua's new head coach. From his new position he led his side to victory in three championships (1987, 1988 and 1989) as well as three Romanian Cups in the same years. At the international level, Steaua and Iordănescu reached the European Cup semi-final in 1988 and the final one a year later.
In the summer of 1993 he was asked to replace Cornel Dinu as Romania's coach and managed to qualify the team for the 1994 World Cup, where Romania reached the quarter-finals, the best-ever performance of Romanian football at the national team level.
He continued as Romania's coach after the World Cup and led the team to a new qualification, for Euro 1996 and 1998 World Cup where Romania reached the knockout stage as winners of Group G.
Although he led the team to a new qualification for a World Cup, Iordănescu was hardly criticized by the media some journalists accused him on the low level of the team during the process.
After losing against Croatia in the second round of 1998 World Cup, he resigned and took over the managerial position of Greece, from where he would be sacked in 1999, as he failed to qualify the team for Euro 2000.
In the 1999–00 season he was appointed as head coach of Al-Hilal, the Saudi Arabian side, where he won the Saudi Cup and the Asian Club Championship (the forerunner to the AFC Champions League). Despite these performances he left the club to take over Rapid Bucharest, hoping to have the same kind of performances as he once had with Steaua. He led Rapid to the first round of the 2000–01 UEFA Cup, losing 1–0 on aggregate to eventual winners Liverpool. However, he was sacked after only three months in charge, causing him to sign with Al Ain FC from the United Arab Emirates where he guided them to UAE
President's Cup title.
Romania failed to qualify for the 2002 World Cup and Iordănescu was called to replace Gheorghe Hagi, therefore becoming the national football team's coach for the second time. His main objective was to qualify the team for the Euro 2004, but he failed to do so. Saying that there was no one else both better than he and available to take charge of the national team, the Romanian Football Federation gave him credit for the 2006 World Cup qualifying stage but after a poor performance in Armenia he was finally sacked.
After his second stint as Romania's coach, he returned to Saudi Arabia, where he signed with Al-Ittihad and won his second AFC Champions League, in 2005 and the Arab Champions League, but one year later he was sacked after drawing with Al-Ettifaq. Just as the 2006–07 UAE League started, Iordănescu went back to coach Al Ain FC for a few months before announcing his retirement from professional football.
In October 2014, Iordănescu came out of retirement to take charge of Romania for the third time.
Interview:
Your country is only one of four teams which participated the first three FIFA World Championships. In the year 2000 you celebrated with reaching the Quarterfinals your best UEFA Championship. What's your goal for France?
The first goal is to qualify from the group stage, but we want to win every match.
In the first rounds you are playing against two times European Champion France, Suisse, Romania and Albania. Who are the strongest opponents?
Of course, France will be the strongest.
What do you expect from Albania?
Albania is a strong team, very determined and well organized.
Which players you know best?
We know every player very well, because we are focused on every opponent.
How do you judge the work of teamchef De Biasi? He led Albania to the first Euro in history.
Mr De Biasi is a very gifted coach with a strong experience.
Your tipp: Who will be the European Champion 2016?
France